I received the beautiful book
Beads, Buttons and Lace
by Jennie Atkinson for Christmas and had been poring over the lovely designs for about a month until the wool arrived to make the Lacy Bed Socks last week.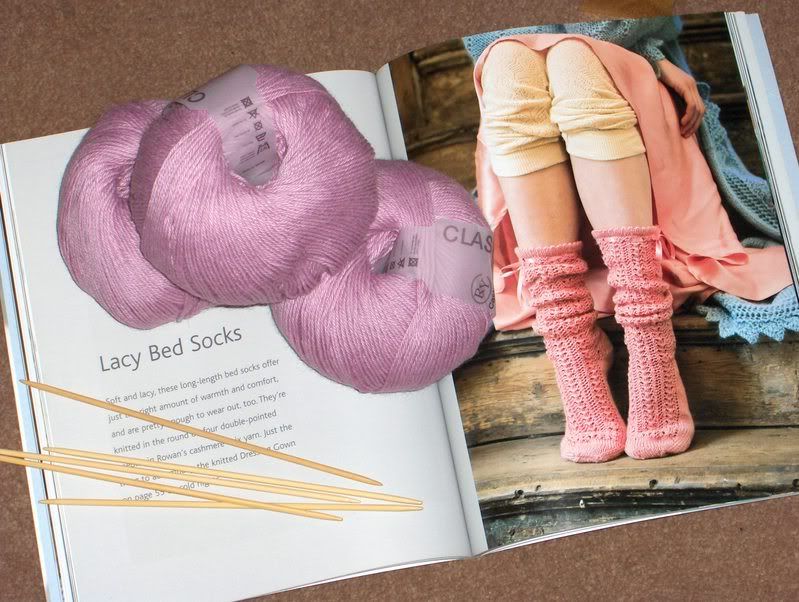 I decided to stick exactly to the pattern and so bought 3 balls of Rowan's RYC Cashcotton in Rose which must be some of the softest yarn I have ever touched - it's so nice and will make lovely socks. As you can see, the colour is a little lighter and less orange-y than in the picture, but it is a very nice shade of pink and will match my new skirt very well. I'm trying to decide what colour I should get for the ribbon, whether to go for a similar pink shade, a much darker pink or go for a complete contrast with something like brown. At the moment I'm leaning towards brown as I think that will make the socks more wearable with non-pink clothes. Pink and brown make for quite a smart pair.
Speaking of pink and brown, I noticed this colour goes very nicely with the Cocoa felted tweed of my new hat which is now nearing completion
This one is turning out far less beret-like than I had originally envisaged even on my tiny head, but I really like the cable and rib pattern which is just what I had in my head. I even saw someone wearing a similar design the other day and can't wait for it to be finished and on my head instead of the needles. As the pattern is of my own devising, I'll probably post it up here when I'm done and have checked that it does give a good outcome.