After seeing the Highland Stocking pattern in Rowan's Magazine no. 42, I decided I just have to knit them.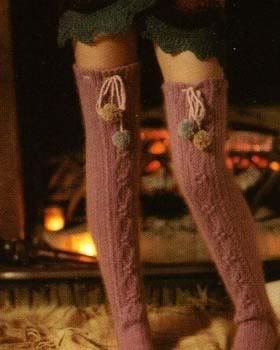 While I am saving up for both the magazine and the yarn (7 balls of kid classic isn't exactly a cheap knit) I have gone a bit cable crazy, searching for cabled glove and hat patterns which would match.
There's just something about cables which intrigue me, maybe it's the mathematician in me looking for pretty, mathematically interesting braids to knit. Braids can also look quite Celtic, a look which rather appeals to me at the moment.
I didn't think much of the other patterns in this magazine at first, but some a really growing on me. The alpine shrug and Neaty and Narvic cardigans are most definitely on my to-knit list. The Rannoch dress is also lovely, but I'm not sure I could afford the wool to knit even the sleeveless version. I seem to have so many patterns on my to-knit list at the moment, there's no way I'm going to get even half of them finished before I see some new must-knits when the next magazine comes out.